AUTOCYB - Vehicle Cyber Lock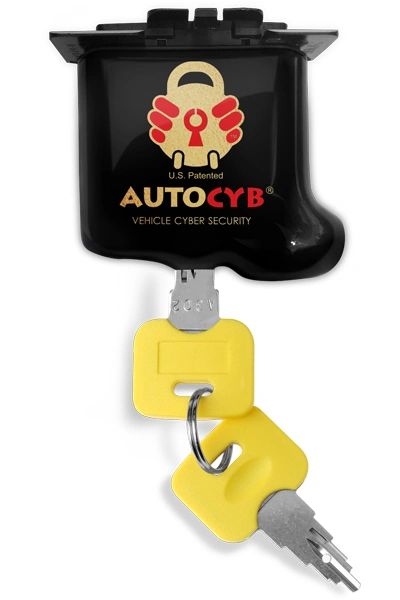 AUTOCYB - Vehicle Cyber Lock
If you buy 2 or more use the product coupon code   Buy2   at FINAL checkout and save 10%.
This product is designed to work on most post-1996 U.S. light vehicles (car or truck) that have a fully accessible and functional diagnostic link connector (DLC).  
If your connector is encased or mounted on a metal plate then it may not lock unless the case or plate is modified to permit locking. 
This product is globally standardized but be aware that because it works on a car or truck model in the U.S. does NOT guarantee that it will attach to the same model outside the U.S.
To guarantee that the product will function as advertised we provide the customer with a practice plug.  The product will come locked to the connector thus establishing the fact that it works when we shipped it.
A vehicle's DLC may be damaged or worn or inaccessible.  In this case we advise users to use the product with another vehicle.
We cannot know the status of your vehicle's DLC and thus we cannot assume the responsibility if it does not latch correctly. 
However, we can guarantee that the product was built according to the global IEEE standard (IEEE-1616a-2010).  We also provide a link to a video where the user can view a HOW TO INSTALL.  The link is www.autocyb.com   
We make no claim that it will work for YOU or on YOUR vehicle, and if you break it, damage it or take it apart we will not refund or replace.  We recommend that an auto technician install and remove this product to avoid damage or breakage to the product.
If our product is faulty then we will meet our legal obligations which may include  providing a replacement product provided the item is returned within a reasonable time (10 days) with proof of purchase.
We will inspect and test all returns to determine if the product was re-engineered, taken apart, or removed by excessive blunt force that caused damage.